In March R&Q partnered with the Medical Alley Association in Minneapolis and MassMEDIC in Boston to offer industry-leading educational workshops on the EU MDR and CERs. R&Q recruited top industry experts, including representation from notified bodies BSI and GMED North America, along with senior leaders from medical device companies 3M, Abbott, BD, and Boston Scientific. We were delighted the medical device community was interested as evidenced by both venues being filled to capacity! Our sincere thanks to those who attended.
The day-long events featured a mix of presentations and 90-minute panel discussions. During the panels, seasoned experts were able to share case studies, tips, and lessons learned from their experience EU MDR implementation planning since Q4 2017 and actual implementation – for some beginning around January of 2018. This included R&Q's own experience receiving feedback from notified bodies on early pilot submissions. Many aspects of post-market surveillance were also heavily addressed in detail.
Each day's success wouldn't have been possible without the excellent and never-ending questions! If you were there – and especially if you were asking questions – thank you! The post-event survey revealed attendees appreciated the questions being asked and the lengthy amount of time the format allowed for panelists to elaborate in detail on their experiences.
Missed these events? Some on-demand webinar suggestions.
There are fantastic options from R&Q if you weren't able to attend. Based on the workshop agendas, here's a summary that provides the most similar (and free) on-demand webinar to each workshop session.
Workshop session: The State of EU MDR: How did we get here?
Your on-demand webinar: Understanding EU MDR and the Roadmap to Compliance
Commentary: These presentations are extremely similar and this is our best-reviewed webinar ever.
Testimonial: "LOTS covered at a brisk clip. Excellent! But we are really going to need those slides to digest it all. :-) Thanks!"
Workshop panel: Transitioning from MDD to MDR: Case Studies, Tips, and Lessons Learned from Large-Scale Implementations of the EU MDR
Your on-demand webinar: Top 10 EU MDR and CER Questions
Commentary: It's impossible to recreate the onsite magic from the live panel discussion, but having two of R&Q's leading subject experts address the top 10 most popular questions R&Q has received is perhaps the next best thing. You'll have to listen closely to this webinar because the slides simply feature question placeholders, but we think the way Nancy and Jon elaborate on the answers is worth your focused attention. Turn off your phone and enjoy!
Testimonial: "Very useful webinar. Thanks! Great information and clarifications given."
Bonus: Attending this year's RAPS Convergence in Philadelphia? We'll be participating in a similar panel discussion there! Details TBA.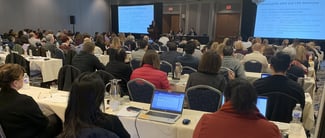 Workshop session: Achieving MEDDEV 2.7/1 Rev. 4 and EU MDR Compliant CERs
Your on-demand webinar: CERs - Tips, Tricks, and Lessons Learned
Commentary: This webinar is nearly a year old but still packs a punch and is the closest offering we have to the workshop session.
Testimonial: "Fantastic presentation. I've been struggling with SOTA for some time and it really helps to learn how other writers are approaching the issue."
Workshop session: Post-Market Surveillance Under EU MDR
Your on-demand webinar: What is sufficient clinical evidence to meet the EU MDR?
Commentary: This recent and favorably-reviewed webinar from February of 2019 should do the trick! Presented by former TÜV Rheinland North America Lead Auditor of Medical, Ron Sills.
Testimonial: "Very informative, really answered my questions on clinical data, CER, and PMS interaction. Thank you!"
Workshop panel: Post-Market Surveillance Panel: Case Studies, Tips, and Lessons Learned
Your on-demand webinar: EU MDR - Proactive Post-Market Surveillance
Commentary: This webinar covers requirements for the PMS system, PMS planning, and PMS reporting.
Testimonial: "This webinar was GREAT! We really enjoyed that it was not a regurgitation of the regs but also offered a comprehensive overview of the requirements and an explanation of how they all fit together."
We hope these resources are helpful. As always, if you need assistance with a specific project or have questions please let us know.