Update: the RAPS + RQM+ webcast is now available on demand here.
Understand the ins and outs of PMCF user feedback surveys by registering for two upcoming and free RQM+ webinars:
April 27 – PMCF User Feedback Surveys: Practical solutions for leveraging user feedback surveys as PMCF activities under the EU MDR (60 minutes) (register here)

May 18 – PMCF User Feedback Surveys: Practical Solutions, Lessons Learned, and Processes for Success (features activity to develop a survey in real-time, 90 minutes, 1.5 RAC credits) (now available on demand)
We've added two major PMCF user feedback surveys webinars to the calendar and encourage you to sign up for both webinars for a complete understanding. The first webinar on April 27th will take a 60-minute essential look at PMCF user feedback surveys. This webinar will set you up for the RAPS webcast to follow. See the details of the RQM+ webinar and register here.
The second webinar is in partnership with RAPS and will be held on May 18th. RQM+ is a Premium Solutions Partner of RAPS and we're thrilled to continue our tradition of working with the RAPS on at least one webcast each year. This webinar will earn attendees 1.5 RAC credits, be 90 minutes, and include an activity to develop a survey in real time during the webcast. Keep reading for all of the details or jump right to the registration page.
Full webcast details
EU MDR brings high expectations on Post-market Clinical Follow-Up (PMCF) activities and greater scrutiny on the quality and quantity of PMCF data. User feedback surveys have proven to be an efficient and cost-effective method of generating PMCF data for many device manufactures. Achieving success though is not as simple as repurposing a marketing survey. For these types of surveys, ensuring the survey is scientifically valid is the biggest challenge to MDR compliance and acceptability with notified bodies.
This webcast will provide practical solutions to leveraging user feedback surveys as PMCF activities under the EU MDR, presented by former notified body leadership and PMCF subject matter experts. It will feature device examples and case studies, including an activity to develop a survey in real time during the webcast. The program is designed to offer solutions and actionable insights that you can take back your organization and implement immediately, and to ensure the following information can be easily understood and applied:
Assessment pathway for determining if user feedback surveys can be leveraged for your device.

Understanding of the requirements of a scientifically valid user feedback survey, and where people commonly go wrong.

Guidance on ensuring the surveys will meet notified body expectations around scientific validity and other requirements.

Definition of the practical regulatory, ethical and data privacy considerations, to confirm your data will be acceptable to all regulatory authorities.

Actionable information helping you to chart your course to having a successful PMCF plan and data for ongoing MDR compliance and CE marking.
Learning Level
Intermediate: Content is designed based upon the assumption that individuals have basic knowledge of the topic(s) and/or demonstrated competence related to the topic(s). Higher-level concepts are introduced during lectures; exercises requiring synthesis and/or application of concepts are incorporated into the activity.

Upon conclusion of the webcast, attendees will be able to:
Determine if user feedback surveys would be an effective PMCF strategy for your device

Evaluate your PMCF user feedback surveys for scientific validity

Apply industry lessons learned to PMCF plans and surveys
Who should attend?
Regulatory affairs Specialists, Managers, Directors and VPs

Post Market Surveillance Specialists, Managers, Directors and VPs

Clinical Specialists, Managers, Directors and VPs
Update: this webcast is now available on demand here.
RQM+ Speakers
Amie Smirthwaite, Ph.D. – Global VP, Clinical Services
Amie Smirthwaite leads the RQM+ clinical team. She is a clinical and regulatory affairs expert with more than 25 years of postdoctoral experience in medical devices, spanning new product development, quality and regulatory systems, and clinical data evaluation. Smirthwaite has worked for medical device companies, academic institutions and notified body, BSI, where she was global head of clinical compliance for 12 years. She developed BSI's clinical compliance team and led clinical aspects of successful EU Medical Device Regulation (MDR) designation. She was also a recent contributor to European Commission Clinical Investigations and Evaluations Expert Group, including subgroups that authored guides for manufacturers and notified bodies on numerous clinical aspects of MDR compliance, as well as the soon-to-be-released Periodic Safety Update Report guidance. Smirthwaite also contributed to development of the clinical requirements for in MedDev 2.7/1 rev 4, which are now reflected in the MDR.
Jaishankar (Jai) Kutty, Ph. D., PMP – VP, Clinical Services
Jai joined the RQM+ clinical team in February of 2021 after seven years at BSI where he held CE marking technical and clinical leadership roles. He presents a unique blend of expertise combining cardiovascular product development and CE marking leadership with a keen appreciation for the rapidly evolving medical device regulatory landscapes.

Among many of Jai's accomplishments in his role as Technical Team Manager at BSI, he trained and developed a structural heart team of multiple technical experts that have successfully CE marked some of the most innovative cardiovascular technologies, and he developed and regularly updated multiple internal guidance docs for BSI, focused on clinical and biological safety requirements.

At RQM+, Jai supports our clients with developing solutions to complex regulatory and clinical strategy issues. His fresh-from-the-notified body perspective brings great insights and creative approaches to our clients.
Celeste Maksim, Ph.D., RAC – Service Line Leader, PMS/PMCF/PMPF Services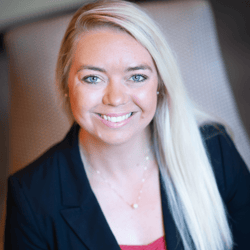 Celeste has been with RQM+ for 2 years, and has over a decade of experience in regulated industries including medical devices, pharmaceuticals, and in vitro diagnostics. She has extensive experience with clinical studies, biocompatibility, regulatory affairs, and labeling. This combination of clinical and regulatory expertise along with her entrepreneurial background and spirit, make Celeste the ideal leader for the PMS & PMCF/PMPF service line at RQM+.

Celeste is committed to creating useful processes for manufacturers that improve workflow and streamline compliance with a business-balanced approach. Celeste and her team focus on helping manufacturers develop business-balanced PMCF strategies and implementing user survey programs as a PMCF solution.
Update: this webcast is now available on demand here.