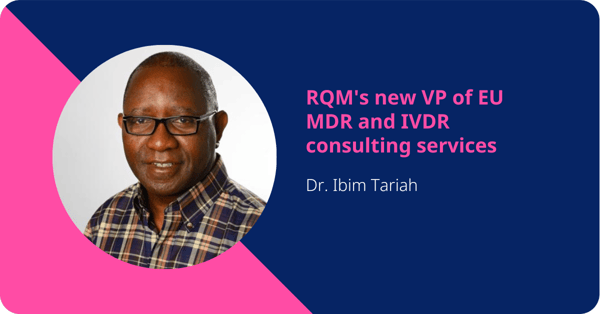 Regulatory & Quality Solutions is particularly thrilled and proud to announce the addition of Ibim Tariah as Vice President of EU MDR and IVDR Consulting Services!
R&Q's EU MDR implementation team was already enormously skilled and experienced, but we've added a whole new level of expertise to give our clients an unparalleled advantage for succeeding under EU MDR and IVDR.
Leadership
Ibim previously served as the Technical Director of Medical Devices at notified body BSI Americas for 21 years and has over 30 years of experience in the medical device industry. In Ibim's newly-created role, he provides leadership, strategic advisement, and implementation expertise to RQM's consulting team and clients.
In his role prior to R&Q, Ibim was part of the BSI Americas leadership team responsible for transitioning to MDR certification. Ibim recognized the significant challenges in implementation of the EU MDR early on. He created and led customized MDD and MDR workshops for clients and industry, and spoke on behalf of the notified body at global conferences and events.
Strategic advisement
Ibim has lived and breathed the evolving MDR through its years of development, its application within the notified body, and its implementation with dozens of global medical device manufacturers. Ibim recognized the desperate industry need for help with implementation of the MDR, and felt he could best service the industry and ultimately help patients continue to have access to devices by joining R&Q as the VP of EU MDR and IVDR Consulting Services. His advanced knowledge combined with his ability to communicate directly and openly will be invaluable for R&Q clients.
Ibim actively keeps the pulse on the EU MDR: its evolving interpretation by notified bodies and industry, and best practices for implementation. He's also well-versed in other international regulatory changes and maintains a vast global network of senior representatives of medical device trade associations, thought leaders across industry, and senior leadership from the largest medical device manufacturers in world.
Implementation
Ibim is one of the most exciting additions we've ever had at R&Q. From his deep knowledge of the MDD, MDR, and international regulatory affairs, to his expertise in product development and project management, Ibim is primed to impact R&Q's clients immediately. Ibim has a deep desire to serve the medical device industry and help his clients achieve success. He relishes client challenges and is driven by his clients' success – both in compliance and business.
R&Q clients will experience a whole new level of regulatory insight and advisement.
Welcome, Dr. Tariah!
---
Where to find Ibim: virtual workshop
Ibim will be participating in multiple panel discussions as part of R&Q's free CER Virtual Workshop on Thursday, September 12th.
Where to find Ibim: upcoming conferences
Ibim will be contributing to several conferences in the month of September.
---
About Regulatory & Quality Solutions (R&Q):
R&Q's mission is to improve people's lives by providing industry-leading regulatory and quality consulting and engineering for medical devices, IVDs, and combination products. We help companies bring safe and effective products to market… and keep them there. Our team of 200+ consultants and counting have served over 300 companies around the globe. View our service offerings, watch free webinars, and more at RQM.com. The and means more.
For inquiries related to Ibim and/or R&Q services, please use our Contact page.