As part of FDA Center for Devices and Radiological Health's (CDRH) Digital Transformation Initiative, several new tools have been released to strengthen the regulatory submission process. One of these tools is the Customer Collaboration Portal (CCP), which allows users to track the progress of their 510(k) submission. On 19 July 2022, FDA rolled out a new CCP feature allowing CDRH-led premarket submissions to be submitted online, which we are extremely excited about!
At the time of FDA's email, this feature is only available to current users of CCP. FDA continues to refine it prior to a full public release. We have known that this feature has been a long-time coming and have been anxiously awaiting its release, so we had to be one of the first to try it! The day after the feature was released, we submitted an eSTAR 510(k) through the new online portal.
The process was extremely easy, intuitive and straightforward. You first start by logging into the CCP and selecting "Send a submission".

From there, you are given the option to submit an eSTAR or an eCopy of the submission.
After selecting the format type, you can then select the file to upload. When the file is uploaded, all you need to do is press send.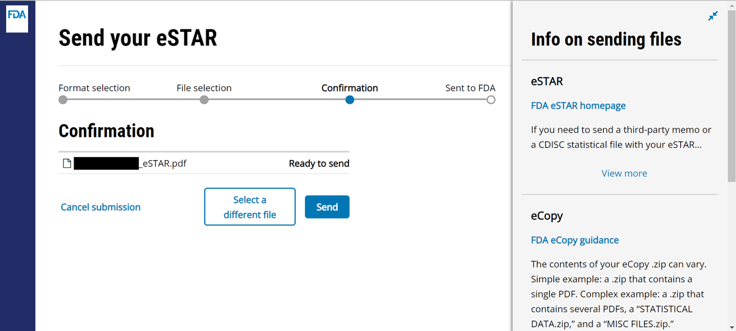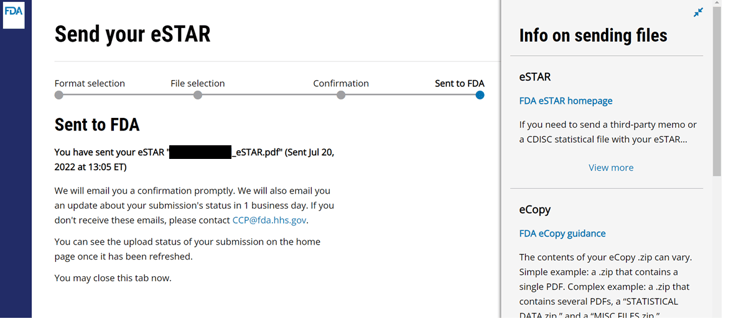 We submitted the submission on 20 July 2022 at 1:05 p.m. EST and received the FDA Acknowledgement Letter just three hours later (20 July 2022 at 4:07 p.m. EST)!
This new feature is a game-changer and may be one of the best tools FDA has released. Gone are the days of having to find a USB/CD and physically going to a mailing center, suffering mailing disruptions due to weather, or paying for overnight shipping. The ability to submit online also provides manufacturers with an extra day to get a submission in as it eliminates the need to submit a day early to account for shipping time. This new tool benefits all stakeholders who need to submit a submission to FDA.
CDRH deserves a huge kudos for their Digital Transformation Initiative and we at RQM+ are very excited to see what comes next!
Looking for more FDA related content? Watch our recent RQM+ Live! show focused on the FDA Appeals Process, featuring guest panelists from Linear Health and DuVal & Associates, PA.