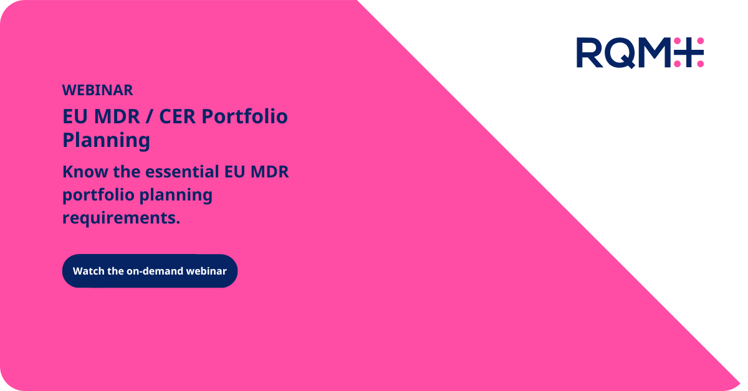 In September and as part of the R&Q Intelligence Series, we conducted the webinar, EU MDR / CER Portfolio Planning: Know the essential EU MDR portfolio planning requirements. Portfolio planning is a key aspect of interfacing with your notified body. The upcoming EU MDR changes are significant, potentially impacting your device classification and the need for clinical data. Considering the overall timeline – including ISO 13485:2016 (March 2019) and MDSAP (if selling in Canada; Jan. 2019) – it will be difficult to get on notified bodies' schedules.
At the conclusion of the webinar we answered several questions, and a sampling of those questions and answers is below. To read more about the webinar, read all questions and answers from the session, and gain access to the slides and recording, check out the on-demand webinar.
Q: The transition period doesn't end until May 2020. Why should we start now?
A: 2020 is not that far away. Given the extensive amount of work that has to happen between now and then, if you don't start now you will not finish. Those critical resources - the notified body and lead times - will not be available. The closer we get to the 2020 date, the longer we'd expect the lead times to be... if you can even get the support. At minimum, you have to do your plan and understand how big of a gap you have to fill between now and then. If you find out that your products are in good shape and you just have minor tweaks to make, at least you'll know that. But if you don't start with the plan today, hitting that date will be impossible.
Q: How does this affect other countries or regions?
A: CE Marking is used as a point of entry in many global markets, where you have reduced registration or listing if you can demonstrate that you've got that mark on your device. Each country writes their own laws and can adjust. What's unknown now is the timing for that. Even though EU may have a transition issues where you have that issued before the transition period, what's unknown right now if those global countries will have a hard date. You do have to look at where are you leveraging your CE mark across the globe and then understand whether they allow that same transition period, or what kind of documentation or re-registration you may need to do because your CE marking is changing.
Q: Who do we send the portfolio plan to?
A: You're really going to share this with your notified body. They need to understand what your plan is and this is the key communication piece. You also want to share it internally with those who have concerns about the product and know what the product support will be. If there are any products you'll remove from the portfolio, any portfolio extensions, etc. We keep emphasizing the planning and what will happen under the MDR because if you make any significant changes you must upgrade that product technical documentation to meet the requirements of the MDR. You need to understand what you're going to do before the end of the transition period and also how this will affect you as the transition period ends, and the MDR is fully applicable. This portfolio planning is key to that. Sharing internally and with your notifed body - those are the people you need to involve.
Q: I don't see how this work gets done in the transition period. Is there a way to request an extension?
A: Right now they are saying no. This has been in the works for years. We've had drafts of the regulations well in advance of a year prior to them coming into force this May. It's about safety for the European patient population, so it's hard to make an argument that three years is not enough time when the feeling is these activities are really about protecting the patient... and this is what we should've been doing it all along. At this point the plans that we've heard about; if the Eudamed database isn't up and running, then how would you submit your periodic safety update report to the competent authority or notified body directly, as opposed to delaying implementation of those kinds of things? Everything we're hearing is that you need to be marching towards that date. If you aren't involved in the planning and you haven't started this yet, we're certain that waiting is not a good option. You need to get this portfolio plan to your notified bodies, understand what the timelines are going to be, and then get the commitment back from them that they will help you meet those times. It's been stated several times: there will not be any extensions at this point.
Q: Intended use vs. indications for use. Some older products do not have indications for use. Do you need to redefine your intended use to include all indications or can you use a risk based approach and use evidence for a one high risk indication??
A: Under the MDR regulations, the labeling must include the following: "(b) the details strictly necessary for a user to identify the device, the contents of the packaging and, where it is not obvious for the user, the intended purpose of the device;" Given this new requirement, you will need to identify and include indications in the label. Furthermore, your risk management file for the medical device or medical device family must include your assessment of the product risk in the context of the intended use or purpose as well as any reasonably likely misuse (uses not intended).