1 October 2020 - As the end of the BREXIT transition period nears, the UK government has released a proposed regime on the regulation of medical devices.
Following BREXIT and in the wake of the transition arrangements between the European Union (EU) and the United Kingdom (UK) coming to an end on 31 December 2020, the UK government has released a proposed regime on the regulation of medical devices in Great Britain. Under the proposal, the Medicines and Healthcare products Regulatory Agency (MHRA) will continue to recognize CE marks and certificates issued by European Economic Area-based Notified Bodies (NB) until 30 June 2023.

Manufacturers will need the new UK Conformity Assessed (UKCA) mark, however, to sell devices in England, Scotland, and Wales effective 1 July 2023. UKCA assessment bodies (CABs) – no longer NBs - will be designated by the MHRA beginning January 2021.
Key Points:
Implementation of the new UK legislation begins 1 January 2021
If you have a UK based Authorized Rep for your medical device or IVD they can no longer be used for CE marked devices effective 1 January 2021
A new route to market and product marking will be available for manufacturers wishing to place a device on the Great Britain market from 1 January 2021
Manufacturers are to designate a UK based individual from a legal perspective (Person Responsible)
New labeling requirements of UKCA mark are mandatory beginning 1 July 2023
The MHRA will continue to perform market surveillance of medical devices on the UK market and will be able to make decisions over the marketing and supply of a device in the UK
All medical devices and invitro diagnostic medical devices (IVDs) placed on the UK market will need to be registered with the MHRA from January 2021, with the following grace period:

Four months for Class IIIs and Class IIb implantables and all active implantable medical devices
Eight months for other Class IIb and all Class IIa devices
12 months for Class I devices
The 12-month grace period will not apply to manufacturers of Class I devices and general IVDs that are currently required to register with the MHRA

See the UK Medical Device Transition Timeline below.
Implications:
If the UK government's proposal becomes UK law, medical device manufacturers who sell into the UK should be aware of the following implications:
Transition to the new mandatory UK requirements on 1 July 2023 will be 11 months before the end of the MDR transition period on 26 May 2024

The supply chain for the delivery of medical devices must be reconfigured to ensure only CE marked products are available in Northern Ireland

At this time, it is unclear which regulatory authority will be responsible for

performing market surveillance of medical devices in Northern Ireland

In addition to dealing with MDR & IVDR transition matters, manufacturers should proactively strategize and make plans to execute new UK regulations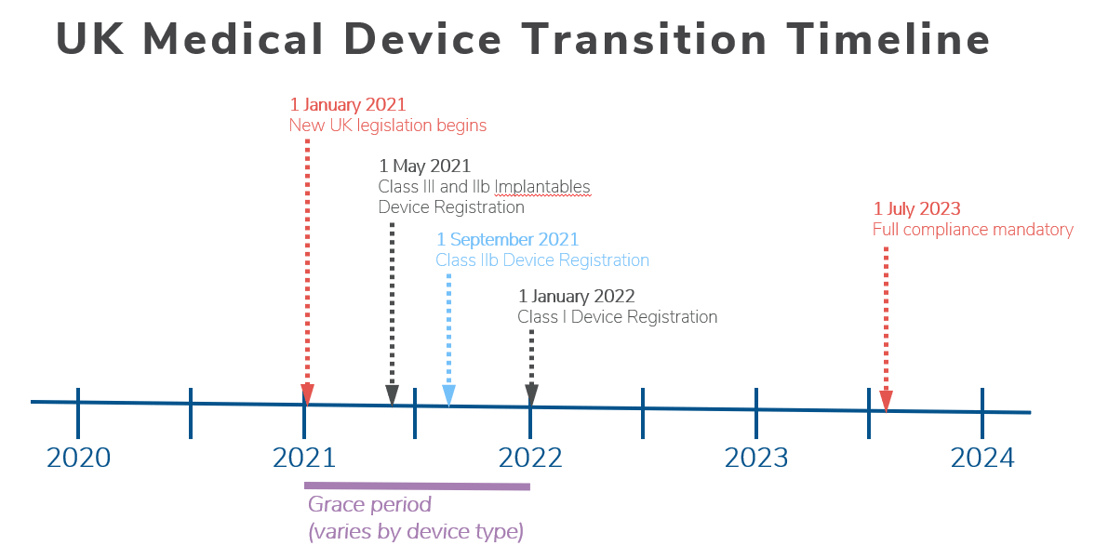 More resources at your fingertips
Subscribe to the R&Q Resources blog for all upcoming and on-demand education available from R&Q, including industry-leading webinars, biweekly RQM+ Live! shows, commentary from our thought leaders, Q&A features, and more.
Source:
United Kingdom Government. Medicines and Healthcare products Regulatory Agency. Transition period. Guidance: Regulating medical devices from 1 January 2021. Published 1 September 2020. Accessed 8 September 2020. https://www.gov.uk/guidance/regulating-medical-devices-from-1-january-2021