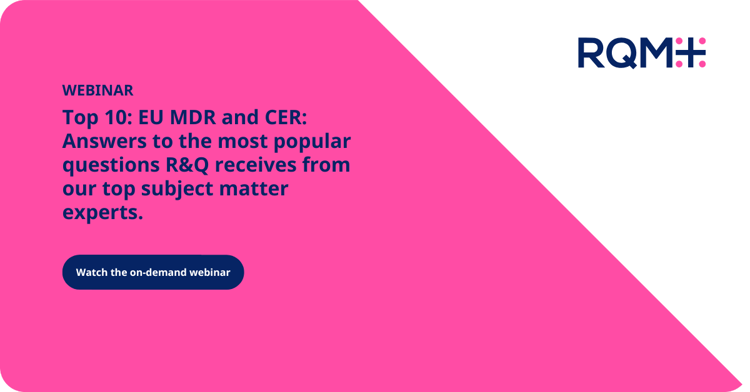 Are you registered for our next free webinar yet? It's one you won't want to miss and it's next week!
The session – Top 10: EU MDR and CER: Answers to the most popular questions R&Q receives from our top subject matter experts. – will be held Tuesday, January 29 at 1pm ET. If you can't view the webinar live, we encourage you to register anyway, as the webinar recording will be shared with all registrants.
In this webinar, R&Q's Director of Regulatory Affairs – along with our Director and CER Business Unit Lead – will answer some of the most frequent (and toughest) questions R&Q has received on EU MDR and CERs. The answers will be thorough, and the recording we'll offer afterwards (like always) could become the most coveted EU MDR and CER content you have!
The session is designed for regulatory, quality, and supply chain representatives and you can sign up below. Hope you can join us!
Presenters
Jon Gimbel, Ph.D. – Director and CER Business Unit Lead
Regulatory & Quality Solutions (R&Q)
Jon has worked in the biomedical and medical device area for nearly 20 years, acting as a key member in a medical device startup, a consultant to a wide variety of medical device companies, and as a researcher on both academic and industrial projects. Having a thorough understanding of the ever-changing global regulations, Jon leads R&Q's CER business unit and has been successful implementing regulations at multinational medical device companies: delivering business-balanced solutions for their business-balanced demands. Jon oversees clinical evaluations completed by R&Q and helps ensure compliance to MEDDEV 2.7/1 Rev 4. Jon also works with companies to develop strategies and plans to meet the new EU MDR requirements pertaining to clinical evaluations and post-market activities. Jon holds a Ph.D. in Mechanical Engineering and BioEngineering, and a Master's degree in Mechanical Engineering, from the University of Pennsylvania. Jon received his Bachelor's degree in the same subject from Penn State University.
Nancy Morrison, Director of Regulatory Affairs
Regulatory & Quality Solutions (R&Q)
Nancy has over 25 years of quality and regulatory experience in the medical industry with US and global regulatory submission experience. The previous five years have been with R&Q working with start-up, mid-size and multi-national medical device and combination product companies. Nancy has a Bachelor of Science in Mathematics and an Advanced Certificate in Regulatory Affairs along with RAC certifications for the US and EU. Nancy has the ability to build collaborative relationships with stakeholders to utilize regulations to identify opportunities that provide compliant and effective business solutions.