Regulatory & Quality Solutions (R&Q) continues to grow aggressively – all while never sacrificing the high quality of service our clients have come to expect (this is a guiding principle and will never change) – and our latest addition to the team is particularly exciting.
R&Q is thrilled to formally announce Ron Sills as Senior Principal Specialist and subject matter expert for CERs and the EU MDR. He's been with us since February and has already made significant contributions to the medical device community while at R&Q. In March, Ron supported R&Q's webinar on sufficient clinical evidence (now available on demand) and acted as a panelist for both of R&Q's highly-rated Advanced EU MDR and CER Workshops in Minneapolis and Boston.
In his role at R&Q, Ron will provide technical leadership and support to R&Q's clients in all areas concerning EU compliance and remediation. His addition to the team enhances and expands R&Q's capabilities and positions the company to make an even greater impact on our medical device clients... and the industry as a whole.
Ron's primary duty as Lead Medical Auditor with TÜV was planning and performing quality management system audits of medical device manufacturers and contract manufacturers to access conformance with EN ISO 13485:2016, ISO 9001:2015, EU MDD and IVDD, and the MDSAP program, including the applicable regulations for TGA (Australia), ANVISA (Brazil), CMDR (Canada), MHLW and PMDA Act (Japan), and the FDA's QSR. He also conducted reviews of technical documentation files for conformity assessment of CE Marked products, focusing on the requirements for sterilization, biocompatibility and clinical evaluation.
Prior to his work with the TÜV, Ron was an Analyst with Nerac performing clinical literature reviews and patent research services. He also worked in the device industry as a Quality Manager for ACMI.
R&Q asked Ron some questions to learn more about his broad experience with quality and regulatory compliance, better understand the changing regulatory landscape, and get his take on a few hot topics in the medical device industry. Oh, and why he's excited to join R&Q!
R&Q: Welcome to the team! Your extensive notified body experience is a welcomed addition to R&Q and we're excited to have you with us for the benefit of our clients. What can you tell us about your accomplishments in the medical device industry?
RS: I'm definitely excited to join the R&Q team. I've been fortunate to work in the medical device industry for over 25 years and have sat on all sides of the table. I was a quality manager and management representative, worked as a research analyst supporting medical device manufacturers to meet compliance, and also worked as a Lead Auditor for a notified body, covering all the applicable standards and regulations for various certification programs. I feel I have a unique perspective and understand the challenges all sides must meet at when trying to market innovative and safe devices, which improve or save lives every day.
R&Q: How can medical device companies align themselves with the notified bodies' interpretation of the EU MDR?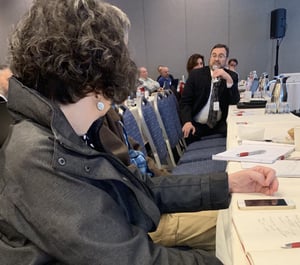 RS: It is critical to have a good working relationship with the notified body for maintaining both the quality management system registration and product certifications. Consistency, transparency, and competency are essential for providing the notified body with the evidence needed to demonstrate an adequate understanding and effective implementation of the applicable requirements for their QMS and products. Manufacturers must use the QMS to specify and drive the processes needed to meet requirements commitment from top management, as well as a robust and effective CAPA process, are critical factors in maintaining certification.

R&Q: What excites you most about joining the R&Q team?
RS: R&Q is a recognized leader in helping manufacturers with regulatory compliance, both for immediate needs such as remediation, and for longer term QMS planning and regulatory strategy development. I'm excited for the opportunity to work with a competent and dedicated team, and to be able to interact with a diverse client base with unique needs and challenges. Happy to be here!
---
Take action:
– Ron presented March's webinar on Sufficient Clinical Evidence with R&Q Director and CER Business Unit Lead, Jon Gimbel. Watch the webinar.
– Are you following R&Q on LinkedIn? We believe you should be! We share upcoming webinars, events, news, and more. Follow us.
– Same goes for R&Q's blog: we encourage you to subscribe!
– Need help with a project or have specific questions? Please contact us.
---
About Regulatory & Quality Solutions (R&Q):
R&Q exists to help you bring more safe and effective medical devices to market. Leveraging our deep industry experience, we provide solutions that help you improve the world. Drawing on our expertise across the entire medical device product lifecycle, we are uniquely positioned to present a range of strategic and tactical options and execute on the solution that best suits your individual regulatory and quality needs.
See all of R&Q's service offerings.
The and means more.