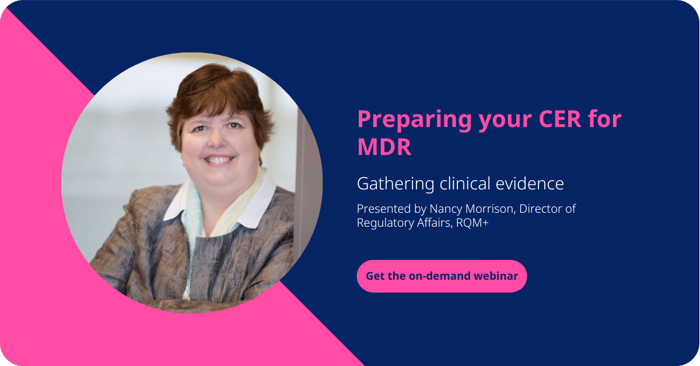 The upcoming EU MDR requires enhanced clinical evidence to support the device whether you have Class I or Class III products. For products that have been on the market for a long time there may be limited or no clinical studies, and yet, the new European Medical Device Regulations require your organization to provide clinical evidence on all your devices.
R&Q's next Intelligence Series webinar, Preparing your CER for MDR: Gathering Clinical Evidence, will be held on Tuesday, Novemer 28th from 1:00pm - 2:00pm EST. The presentation slides, webinar recording, and Q&A will be made available to registrants.
Register in seconds at the link below, and read on for full webinar details. We hope you'll join us!

Webinar details
The time to plan and act on these changes is now.
The Clinical Evaluation Report (CER) is required under the regulations. Past practice of basing the device safety and performance on competitive or comparative devices with written justification for no post-market clinical follow-up may no longer satisfy the requirements. However, if you take the time during the transition period to gather clinical evidence on these devices, you will be prepared to meet these requirements
This webinar will describe what to do now, what to keep your eye on, and real-world examples that show how industry is working through the changes. Interpretations will evolve, but R&Q experts will be able to help you navigate the process.
What's covered?
In addition to the background and history of EU MDR, the stacking effect for notified bodies, and R&Q's proposed solution, the session will cover the key EU MDR changes, including:
Required reports under the MDR related to clinical evidence
Frequency for report updates
Utilizing the Clinical Evaluation Plan as your roadmap
State of the Art Literature Searches
Types of clinical evidence
Reactive post-market surveillance
Proactive post-market surveillance
Leveraging real-world evidence
Navigating the changes with your notified body
What to do: R&Q recommended next steps
Key takeaways
Learn the essential EU MDR requirements for clinical evidence
Know how it might impact your company
Understand immediate actions and potential next steps
Practical tips and guidance for implementation
Valuable insight from experienced industry leaders
Who should view?
This session is designed for medical device manufacturers who market in the EU.
Also, newly appointed medical device companies in areas of cosmetics, cosmetic lights/lasers, colored contact lenses, cleaning and disinfecting solutions, and sub-dermal and trans-dermal implants are a good fit for this session.
Job functions include:
C-Level Executives
RA/QA Directors
Quality Managers
Regulatory Affairs Managers
Regulatory Specialists
Quality Specialists
Quality Engineers
About the presenter
Nancy Morrison, Director of Regulatory Affairs, R&Q
Nancy has over 25 years of quality and regulatory experience in the medical industry with US and global regulatory submission experience. The previous five years have been with R&Q working with start-up, mid-size and multi-national medical device and combination product companies. Nancy has a Bachelor of Science in Mathematics and an Advanced Certificate in Regulatory Affairs along with RAC certifications for the US and EU. Nancy has the ability to build collaborative relationships with stakeholders to utilize regulations to identify opportunities that provide compliant and effective business solutions.