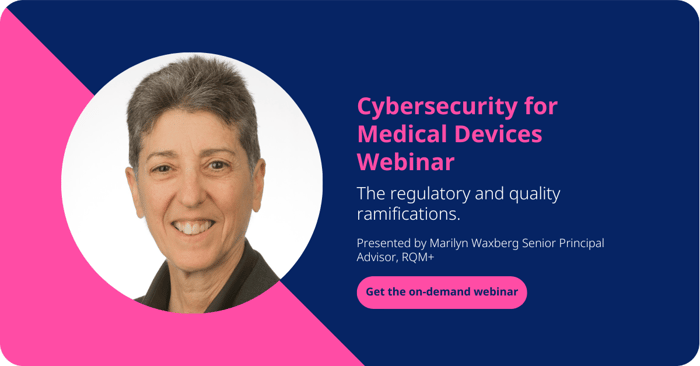 What?
Please join us for a free R&Q Intelligence Series webinar:
Cybersecurity for Medical Devices: The regulatory and quality ramifications.

The session will be held on Tuesday, July 25 from 1:00pm - 2:00pm EST.

The emphasis on security is here. And here to stay.
The regulations at the federal level mandate that healthcare organizations, financial institutions, and federal agencies should protect their systems, the information they collect, and consider the risks to their user population.
This webinar will outline the regulations, standards, and FDA guidance that shape cybersecurity. In other words; the vital aspects of cybersecurity medical device companies need to look out and plan for.
Global medical device manufacturers can expect increased attention on cybersecurity – including competent authorities and notified bodies. Cybersecurity is a global threat and one of the reasons privacy issues can become safety issues. If you are marketing (or considering) a medical device in 2017 and it contains software or software as a medical device, you will need to establish cybersecurity documentation.
Case studies of cybersecurity issues (recalls, security breaches, etc.) will be presented in this webinar, providing real-world examples that will help you understand and prepare for potential issues you could face.
What's covered?
Brief background and description of cybersecurity
Who is impacted and when?
What's happening in the EU?
Case studies illustrating cybsersecurity issues (recalls, breaches, etc.) and lessons to learn
What to do: R&Q's recommended next steps
Key takeaways
When we're done, you'll leave with:
Understand why a cybsersecurity infrastructure and management process are critical to have in place
Know how cybersecurity regulations, standards, and guidances impact your company
Identify the need to develop a framework for a cybersecurity risk assessment
Understand the regulations that surround the EU
Case study examples of cybersecurity issues (recalls, security breaches, etc.)
About the med device expert
Marilyn Waxberg is a Senior Principal Advisor for Regulatory and Quality Solutions (R&Q) and has over 30 years' experience in the healthcare products industry, with an established track record in the regulatory area involving software, medical device, in vitro systems, combination products, pharma, biotech and veterinary medicine. Marilyn works to positively influence both the organizations she works for, as well as the industry in general. She was a founding member of the Bipartisan Policy Center Health IT Coalition, which published the first bipartisan public recommendations for health IT; An Oversight Framework for Assuring Patient Safety in Health Information Technology, as well as an additional collaborative effort submitted to the FDASIA Work Group; Defining and Characterizing Risk of Health Information Technology. She was Editor-in-Chief for the Fundamentals of US Regulatory Affairs, has published in industry magazines, presented at numerous medical device conferences including at the Regulatory Affairs Professional Society, and taught short courses on FDA CBER, Preservation of Cell-based Products for Human Therapeutic Application, at the University of Minnesota. Marilyn was a member of the EHRA Patient Safety Working Group, a US TAG Expert, and a past board member of the iHealth Alliance/EHRA.
---
Part of your month every month: R&Q Intelligence Series webinars are held on the fourth Tuesday of every month. These free webinars from some of the medical device industry's leading-most experts are designed for reporting on and analyzing the top industry trends and topics in the medical device space, each providing key and actionable takeaways for attendees. Slides and recordings will be made available to all registrants.