About R&Q's Case Studies: We hope this Clinical Evaluation Report case study is valuable to you. Here are our currently available case studies. Subscribing to our blog is the best way to know when future case studies and other resources are available. Questions on this particular subject? Contact us.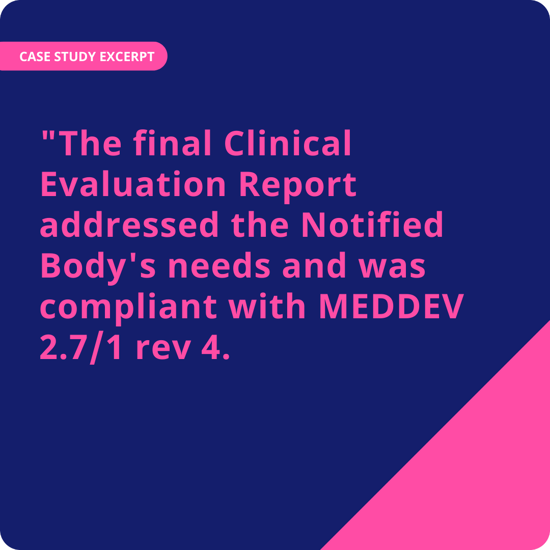 Challenge
Design changes and MEDDEV 2.7/1 rev 4 compliance.
The client was implementing multiple design changes on a Class III implantable heart transplant device that required a submission to the Notified Body. As part of this submission, the Clinical Evaluation format needed to be updated to provide clarity and comply with MEDDEV 2.7/1 rev 4. The Notified Body provided feedback on the prior clinical evaluation reports and the client needed assistance in interpreting and addressing the feedback. The primary roadblocks / challenges were interpreting the information provided by the client, identifying and requesting any missing or insufficient documentation, and ensuring the information was comprehensive and understandable to the Notified Body once included in the Clinical Evaluation Report.


Solution
Clarifying the requirements and process.
The R&Q team worked with the client to interpret the Notified Body's feedback and provided a template to meet the Notified Body's needs and MEDDEV 2.7/1 rev 4. R&Q then helped the client summarize the design changes and collect all applicable internal data relevant to the clinical evaluation. Finally, R&Q supported the client through the process of performing a comprehensive literature search to evaluate the state of the art and external clinical data. The entire process required diligent communication with the client to ensure the process and requirements were clear.
Results
Compliant and clear report.
The final Clinical Evaluation Report addressed the Notified Body's needs and was compliant with MEDDEV 2.7/1 rev 4. The report also provided clear clinical evidence to support the design changes and confirmed that the benefits and risks of the device were consistent with the state of the art.
---
Download the PDF

Submit your email address to download the entire Clinical Evaluation Report case study in PDF form, perfect for printing and/or emailing to colleagues and friends in the industry. By downloading you agree to receive periodic updates from R&Q's Blog, and will be the first to know about future case studies and other resources.