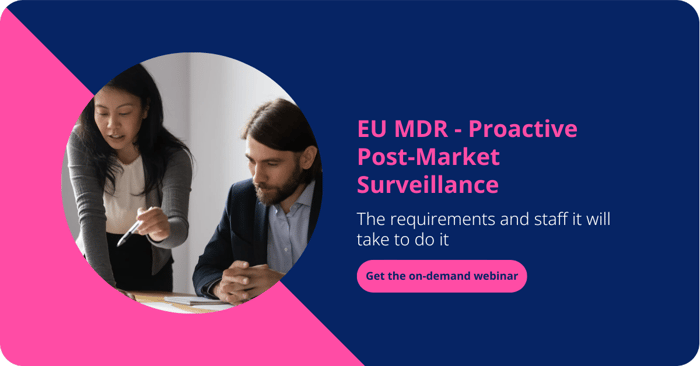 It's time for our next free R&Q Intelligence Series webinar.
The session – EU MDR – Proactive Post-Market Surveillance: The requirements and staff it will take to do it. – will be held Tuesday, April 24ᵗʰ from 1:00pm - 2:00pm EST. If you can't view the webinar live, we encourage you to register anyway, as the presentation slides, webinar recording, and Q&A will be shared with all registrants.
Click below to sign up and read on for more details about the webinar. We hope you can join us!
Webinar details
The EU MDR lays out requirements for a proactive post-market surveillance system that that inputs into the ongoing risk management and clinical evaluation processes throughout the device life cycle. In this webinar, we'll cover the requirements for the PMS system, PMS planning, and PMS reporting. With significant new requirements for device-specific plans and reports, you'll need to update your post-market surveillance system with enough time for your staff to implement the changes.
The time to start is now.
PMS planning is a device-specific process that defines what data will be collected, how it will be analyzed, and what actions will be taken. Using the risk management plan as a guide, the PMS plan identifies specific parameters for handling serious incidents and trend reporting of non-serious incidents. It defines suitable indicators and thresholds to be used in the continuous reassessment of the benefit-risk ratio, including analysis of data regarding similar devices. The PMS plan establishes whether PMCF is needed and lays out the PMCF plan.
The EU MDR requires several reporting mechanisms for the PMS system, including PMS Reports (for Class I devices), PSURs (for Class IIa and higher devices), PMCF Evaluation Reports, as well as vigilance and trend reporting. These reports are inputs for the ongoing risk management and clinical evaluation processes throughout the device lifecycle. We'll talk about how to structure the reports for seamless updates to risk management and clinical evaluation reports.
What's covered?
This session covers new requirements for post-market surveillance planning and reporting under the MDR, and the integration of post-market surveillance activities with risk management and clinical evaluation activities throughout the device life cycle.
Key takeaways
Learn the essential EU MDR requirements for post-market surveillance planning and reporting
Recognize the value of integrating the risk management, clinical evaluation, and post-market surveillance processes
Understand immediate actions and potential next steps
Practical tips and guidance for implementation
Valuable insight from experienced industry leaders
Who should view?
This session is designed for medical device manufacturers who market in the EU and are intending to market devices under the EU MDR/IVDR.
Also, newly appointed medical device companies in areas of cosmetics, cosmetic lights/lasers, colored contact lenses, cleaning and disinfecting solutions, sub-dermal and trans-dermal implants are a good fit for this session.
Job functions include:
C-Level Executives
RA/QA Directors
Quality Managers
Regulatory Affairs Managers
Regulatory Specialists
Quality Specialists
Quality Engineers
About the presenter
Jon Gimbel, Ph.D. – Director of Operations
Regulatory and Quality Solutions (R&Q)
Jon has worked in the biomedical and medical device area for nearly 20 years, acting as a key member in a medical device startup, a consultant to a wide variety of medical device companies, and as a researcher on both academic and industrial projects. Having a thorough understanding of the ever-changing global regulations, Jon leads R&Q's CER business unit and has been successful implementing regulations at multinational medical device companies: delivering business-balanced solutions for their business-balanced demands. Jon oversees clinical evaluations completed by R&Q and helps ensure compliance to MEDDEV 2.7/1 Rev 4. Jon also works with companies to develop strategies and plans to meet the new EU MDR requirements pertaining to clinical evaluations and post-market activities. Jon holds a Ph.D. in Mechanical Engineering and BioEngineering, and a Master's degree in Mechanical Engineering, from the University of Pennsylvania. Jon received his Bachelor's degree in the same subject from Penn State University.