Presbyopia is a fancy (okay, medical) way of saying farsightedness, meaning the ability to see things at a distance, but difficulty seeing or reading things up close. It's caused by aging-related loss of elasticity in the lens of the eye. We've all seen someone of a certain age hold a menu or a price tag or a recipe at arm's length in order to read it. The next time you see this happen, take note! These eyes have been places and seen things–to wit, presbyopia is the Greek word for "old eye". This quick, 30-second video from the American Academy of Ophthalmology is a good primer for understanding this condition and a futuristic new device that might make that unnecessary arm-length-reading a thing of the past.
Essentially, the lens in our eye must change shape in order for us to read text up close. As we age, the lens thickens and becomes less elastic, making this change more difficult to accomplish. Raindrop Near Vision Inlay is a medical device that received FDA approval in 2016, and aims to fix this.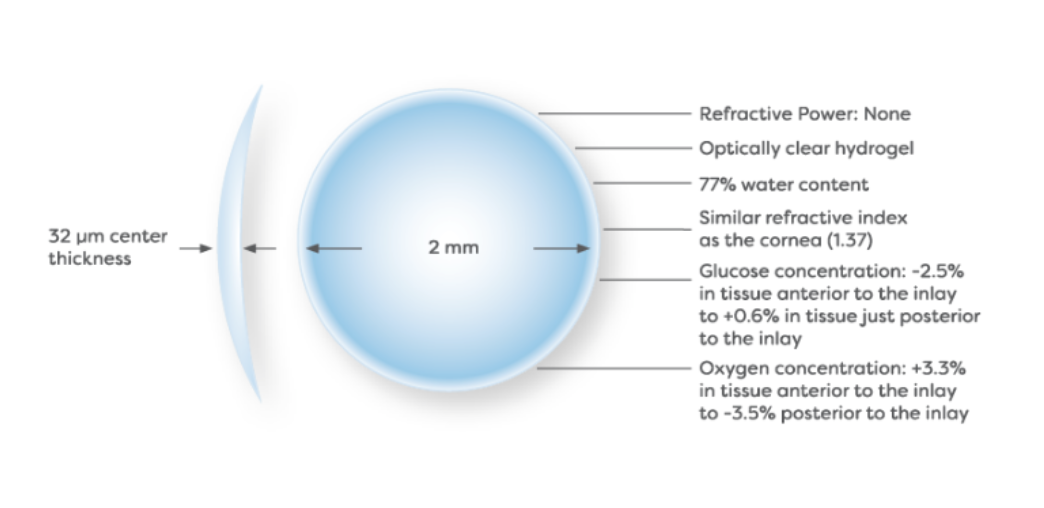 This innovative, implantable contact lens is made of 77% water and is placed through a quick, LASIK-like procedure. It works by reshaping the front of the eye to allow for up-close reading. Per FDA, "The safety and effectiveness of the Raindrop Near Vision Inlay were studied in a clinical trial of 373 subjects implanted with the device. Two years after implantation, 92 percent of patients included in the analysis (336 out of 364) were able to see with 20/40 vision or better at near distances with the inlay-implanted eye."
Other reported results also look strong:
This type of device—one that gives a longterm solution to an every day problem—is one of the many beautiful things medical devices can do. I recommend checking out the Raindrop Inlay manufacturer's website. They do an exceptional job of illustrating the daily hassle that comes with this medical condition and makes it easy for anyone to imagine what it would be like, even if they don't (yet!) have to contend with it. I look forward to following this product.
Further Reading:
Raindrop Near Vision Inlay Approval Letter