September 21-24, 2019 — Philadelphia, PA
The most important regulatory conference in the United States is this fall and R&Q will be contributing to the program in a major way. Will you be one of the 2,000 regulatory professionals joining us at the 2019 RAPS Regulatory Convergence in Philadelphia?
R&Q Cofounder and Chief Strategy Officer Lisa Casavant (moderator) and Executive Director of Regulatory and Quality Consulting Services Nancy Morrison (panelist) will be lending their expertise to Transitioning from MDD to MDR: Case Studies, Tips, and Lessons Learned from Large-Scale Implementations of the EU MDR. We're thrilled to be able to contribute to this incredibly important session! The panel discussion is scheduled for the conference's final day (hmm... saving the best for last?): Thursday, September 24th from 4-5:30pm.
Here's the full lineup of excellent panelists:
― Ibim Tariah, PhD – Technical Director, BSI
― Caroline Byrd – Director Commercial RA/QA, Leica Biosystems Richmond
― Robert Lally, BSc, MBA, CEng – Senior Director of Regulatory Affairs, Stryker
― Nancy Morrison, RAC – Executive Director of Regulatory and Quality Consulting Services, R&Q
― Patrick McCullagh, PhD – Head, Regulatory Affairs, Trauma/CMF/Extremities/Animal Health, DePuy Synthes, Johnson & Johnson
What will be discussed?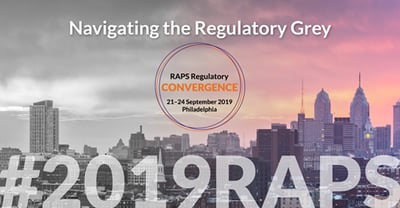 This session is an amazing opportunity to hear directly from experts with hands-on EU MDR experience and from a notified body. It's a distinctive occasion where the panelists can feed off one another's comments and answers to questions, which is exactly what makes these panels so informative and valuable for attendees. They go deeper and shed light on thought processes.* The panelists have been in the thick of the EU MDR since 2017 and you'll hear stories, best practices, successes, and failures. You'll also have the chance to ask your own questions. Expect the conversation to include topics such as:
― Implementation elements like portfolio reduction
― Optimizing your schedule
― Regulatory file transitions
― QMS changes
― Labeling changes
― Remediation of longstanding issues that will no longer pass
― Training and change management
― Hangups related to technical documentation
― Communicating clinical information in a patient-friendly way
― Post-market surveillance interactions with clinical (this R&Q on-demand webinar is a fantastic resource)
Our goal is for every attendee to find value no matter where they are in the EU MDR transition process. Attendees should be able to impact the development of project plans, schedules, processes, templates, portfolio plans, budgets, and more when returning to their organizations. Essentially, this session should genuinely help optimize all processes at their organization related to the EU MDR.
As RAPS says, we hope you'll come "navigate the regulatory grey" with us at our session on September 24th. More information on the conference can be seen here.
*This is why we're hosting a free CER Virtual Workshop earlier in September. It's a can't-miss event if you work in any way, shape, or form with CERs.