In this on-demand webinar originally presented in July 2020, find out how to create detailed, compliant, and business-balanced PMCF plans.
Get right to it → If you want to create detailed, compliant, and business-balanced PMCF plans, register for this webinar! The slides and webinar recording are shared with registrants.
A little more detail...
Confusion over requirements combined with the effort and expense to complete PMCF plans makes them rather challenging. PMCF planning is also not an activity that can be done in a silo. There are many factors and inputs to the plan, including the PSUR/PMS data, CER, and risk management file… all of which are accustomed to working in silos. Not here. Without collaboration, your PMCF plan may end up being more complicated than it needs to be.
This webinar will discuss these topics and more:
Getting your teams onboard with the purpose of PMCF - safe devices!

Weighing the cost of PMCF with the cost of non-compliance; rationales for gaining budget approval

Evaluating clinical data and rank by data quality and quantity; used to develop risk based strategy

Understanding and interpreting the MDCG Guidance for consistency across technical documentation

Picking a strategy... and sticking with it

Removing the silos and aligning PMCF needs with PMS, CERs, and risk management

CASE STUDY: Making it all work together

Presenters
Brian Hockett – Project Engineer
Regulatory & Quality Solutions (R&Q)
Brian Hockett is a Project Engineer at Regulatory & Quality Solutions (R&Q). Brian is a skilled medical device professional with experience in design, development, risk management, regulatory submissions, and quality management systems. He has worked in both startups and large medical device organizations, and has been a key member of corporate integration and remediation teams. Brian has helped lead quality system updates and implementation for ISO certification, FDA and notified body audit preparation and defense, as well as directed design and development efforts, and design quality assurance projects.
Brian currently works with companies to develop strategies and plans to meet the new EU MDR requirements for their technical documentation, post-market surveillance, PMCF, and QMS.. Brian has a Bachelor of Science Degree in Biomedical Engineering from Case Western Reserve University.
Celeste Maksim, Ph.D. – Principal Specialist
Regulatory & Quality Solutions (R&Q)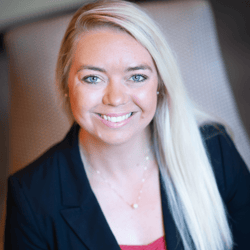 Celeste Maksim is a Principal with Regulatory & Quality Solutions (R&Q) where she helps to provide clients with industry-leading regulatory and quality consulting and engineering services throughout the entire product lifecycle. Her medical device experience spans from research and development of nanoscale electrochemical sensors for emergency medicine applications and nanomaterials that enable drug delivery across the blood brain barrier to regulatory experience in generating regulatory strategies, the development of FDA submissions, including IND, NDA, IDE, and 510(k) submissions, biocompatibility strategy, and EU MDR preparation focusing on post-market surveillance and post-market clinical follow-up. Celeste is Regulatory Affairs Certified (RAC) by RAPS, possesses a Bachelor's degree in chemistry from Northern Kentucky University, and a PhD in Analytical and Materials Chemistry from Indiana University, Bloomington.
Special Guest: Ibim Tariah, Ph.D. – Vice President of EU MDR and IVDR Consulting Services
Regulatory & Quality Solutions (R&Q)
Dr. Ibim Tariah earned his PhD in Materials Science the University of Manchester, U.K. Dr. Tariah has over 30 years experience in the medical device industry, including 21 years at BSI. In Dr. Tariah's role of VP of EU MDR/IVDR Consulting Services at R&Q, he provides leadership, strategic advisement and implementation expertise to R&Q's consulting team and medical device clients.
Prior to R&Q in his role of Technical Director of Medical Devices for BSI Americas, Dr. Tariah was part of the BSI Americas leadership team responsible for transitioning from MDD to MDR certification. Dr. Tariah recognized the significant challenges in implementation of the EU MDR. He created and led customized MDD and MDR workshops for clients and industry, and spoke on behalf of the notified body at global conferences and events.