In December 2021, RQM+ acquired AcKnowledge Regulatory Strategies (AcKnowledge RS), a San Diego-based firm specializing in regulatory affairs consulting for the medical device and IVD industry. The integration of this impressive team enhances the extensive RQM+ network of current and former FDA reviewers, scientists, engineers and regulatory and quality experts, and adds additional expertise with FDA submissions. The author of this post is a member of this team, which has done significant work with novel and/or high-risk devices focusing on pre-submissions, 510(k)s, IDEs, PMAs, De Novos, Breakthrough Designation Requests and Safer Technology Program Requests.
---
Fee-fi-fo-fum
I smell the blood of an Englishman
Be he alive or be he dead...
We all know what comes after those famous lines. But did you know that in some translations, it reads "Be he alive or be he dead, I'll grind his bones to make some bone graft"? Languages are amazing!
Okay, maybe not. But what's not an exaggeration is that bone mills are pretty amazing. In simplest (and slightly disturbing) terms, they're like a coffee grinder for bones—but with a pretty noble purpose.
They can look quite simple: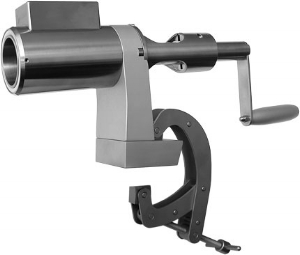 Or they can be more complex:
But however they look, the purpose of these devices is roughly the same: to grind up somebody's bone to be used during surgery. These devices are often used in the Operating Room to grind up a patient's bone to be placed back into the same patient.
While they're not new, these Class I (lowest risk) medical devices are truly brilliant in their simplicity. Grinding bones to use for bone grafting go back a long way. This interesting history of bone grafting discusses osteopathy in 1863, and cites examples in 1889 (tibia bone used to heal a skull defect) and 1910 (a split rib was used to heal a skull)!
In today's Operating Room, no ribs are split and attached to skulls. Instead, bone mills are used to grind up bone to make grafting material. As mentioned earlier, using the patient's own tissue is often preferable as tissue that comes out of one's own body has less of a chance of being rejected. Taking a piece of hip bone out of a patient to grind it up and help rebuild that same patient's spine, for instance, fits into this category.
Class I devices like bone mills don't require a 510(k) premarket notification. However, they are still required to comply with general controls such as registration and listing, labeling, and GMPs. You can read more about these requirements on FDA's page about Class I devices.
It's always good to look back on the history of devices and procedures. While medical technology has certainly advanced—and we are better for it—some things remain the same.
Further reading:
Video of a bone mill being used
I often include videos in posts in order to show how a device works. This time, I am linking to a video with the disclaimer that, while it does show how a manual bone mill works, it is not for the faint of heart—so proceed with caution.