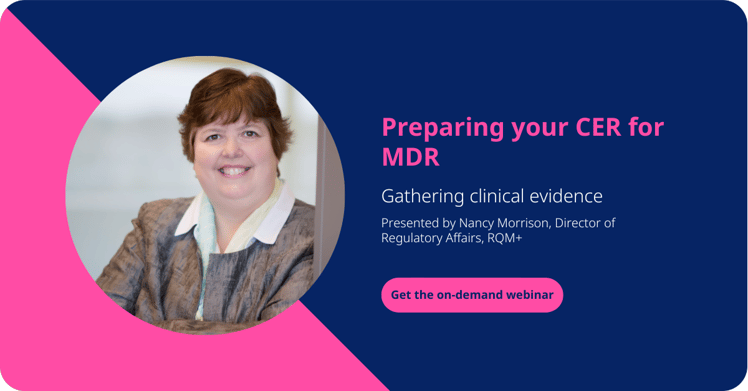 Note: R&Q's first Intelligence Series webinar of 2018 will be held on January 23rd – QMS for EU MDR: Does your quality system meet the additional requirements? Sign up here!
--
Back in November and as part of the R&Q Intelligence Series, we held the webinar, Preparing your CER for MDR: Gathering Clinical Evidence.
The upcoming EU MDR requires enhanced clinical evidence to support the device whether you have Class I or Class III products. For products that have been on the market a long time there may be limited or no clinical studies, and yet, the new European Medical Device Regulations require your organization to provide clinical evidence on all your devices. The time to plan and act on these changes is most certainly now.
At the conclusion of the November webinar we answered many questions (the most of any webinar - so thank you!), and some of those questions and answers are below. To read more about the webinar, read all questions and answers, and gain access to the slides and recording, check out the on-demand webinar.
Q: For the lowest risk / most-established devices the fourth route (clinical evaluation not required) may be allowed - not sure what the deal under the new EU MDR is?
A: Clinical evaluation reports will be required under the MDR for all classes of products. What will vary is the amount and type of evidence that are needed for that evaluation. For low risk, well-established products it may not be necessary to conduct a clinical investigation but there are still requirements to confirm safety and performance and perform all of the PMS activities outlined in the regulation. Common specifications are planned for some of the well-established devices that will more fully define the requirements for some devices.
Q: Clinical evaluation sounds a lot like Post-Market processes...is there a difference?
A: Yes. The clinical evaluation report (CER) needs to be completed prior to putting the device on the market to support safety and performance of the device. The CER must be maintained throughout the useful life of the device, as well. All of the post-market processes feed into the CER and are used to generate the conclusion on the overall acceptability of the risk/benefit analysis of the device.
Q: How would you suggest going about weighting of data? Also, by what method would you suggest for evaluation of published literature with so many complex and often-subjective parameters? For example, it might be difficult to evaluate the statistical approach of every study that comes up with a literature search.
A: If you start with the list of criteria outlined in MEDDEV 2.7.1 Rev 4 it will provide the broad categories. I typically start with a general idea of how many articles or how much literature may be available to help guide establishment of the weighting scale for inclusion in the report. If I expect hundreds of results as the device has been widely studied and published about then I am more discerning and look specifically for well controlled, multiple patients, duration of use of the device compared to intended use, specific mention of the device being studied, and clear outline of outcomes and adverse events associated with the device. If there is limited data available, I would look to articles that include fewer patients, foreign language articles that need to be translated, less rigorous publications in terms of peer-review process, and related animal studies. Adding a weighting scale and assigning a score of 1-5 for each factor can help prioritize studies for inclusion. You just need to pre-define how you will do that as part of your plan and protocol so that you are not subjecting the selection to bias.
Q: Hi, what are the most pertinent differences between Post Market Clinical Surveillance and Post Market Clinical Follow up? Seems to me that they are similar and almost interexchangeable (and sometimes used in similar ways in companies)?
A: The PMCF is a subset of the PMS. The PMS includes all the evidence that is collected after marketing a device. This would include proactive (focus groups, surveys, registries, clinical studies) and reactive (complaints, vigilance reports) sources to identify the data. The PMCF speaks to generation of new clinical data after the product is on the market. This could be either a single arm (subject device only) or multiple arm (subject device and standard of care or no treatment) study designed to collect specific clinical data on the use of the device.
Q: Hi, Nancy. Great webinar. How do you confirm that web site information is peer reviewed as a lot of info is increasingly through websites?
A: Literature pulled from websites typically provide a reference or "about us" webpage that provides information on how the website was created and is maintained. Typically, the literature is published in a journal that will have editorial standards. A review of the publication process should provide some evidence that the journal has peer review or not. You do need to use caution as some peer-reviewed journals will publish editorials that are not peer reviewed and occasionally are erroneously listed as a reference.
Q: Hi! Thanks for webinar. My question is how does this update goes in reference to the standards ISO 14155:2011? Will the standard be updated too soon?
A: ISO 14155 is currently in its revision cycle (at the CD phase with approval to move forward to the DIS phase for the 3rd edition) by ISO TC 194/WG4. This will likely be published in the next 1-1.5 years or so (2019) and will also likely have a 2 or 3 year (2021 or 2022) transition period. Given where this is in the revision cycle, it will not likely be able to take into account all of the needs from the EU MDR, but given the technical expert participation, we can anticipate the concepts to come through in the requirements. It should be kept in mind that this standard outlines the requirements for gathering general clinical data when conducting clinical studies and will not outline requirements for gathering the clinical evidence for CER's. Clinical studies can provide some clinical evidence as we outlined in the presentation.
Q: What is the purpose of the State of the Art section? Is it simply background, current setting, alternative therapies? Or, are we intended to demonstrate that our device IS state of the art? What happens if it isn't state of the art? I've heard repeatedly that there will be "no more grandfathering" for established devices with a long market history. What does that mean under the new MDR? Will we need to sponsor clinical studies or proactively develop new clinical data? Do the notified bodies have a clear understanding of what will be required under the MDR or are they waiting on how the regulatory agencies will interpret things? Are we all grasping at straws as we figure out what the expectations will be?
A: The state of the art is to ensure that the device complies with current medical practice. It is more focused on the indications for use and current medical treatment guidelines. If your device was used for a long time but newer treatments are now the standard of care due to better outcomes or patient preference it could point to a different risk/benefit analysis on the device. We have had CERs submitted for NB review that incorporate a State of the Art report so this portion has been practiced by some organizations.
Q: If there are no changes to the device, and the device is already CE marked, do we need to have clinical data from clinical studies, if the device have previously used grandfathering approach, or just did literature study?
A: One of the reasons that MEDDEV Rev 4 was issued is that there was wide disparity in the quality and depth of information that was available for products under the MDD/Rev 3 of the guidance. All devices will need to have updated clinical evaluation reports at some point to comply with the MDR. The adequacy of the data that is existing on those and whether new data is needed will have to be made on a case by case basis. Unfortunately, without looking at your existing files, it is hard for us to determine if it will need new data or the existing literature is sufficient.