On-Demand - A webinar entirely dedicated to case studies.

► Special note: On May 1st we recorded an episode of DEVICE L❤️VE Live! on this topic. While the intent of our webinars is to strategically dive deep into a topic, our weekly live shows are more of a discussion. View the episode on demand for a taste of what the webinar will offer!
--
Case Studies of MDD and MDR Audit Findings... and Lessons Learned
R&Q's March 2020 webinar focused on EU MDR audit findings. Feedback from that webinar indicated you wanted to see more case studies. We heard you loud and clear.
This webinar scheduled for Tuesday, June 2nd, will be completely focused on specific case studies of audit findings and lessons learned from both recent MDD and MDR audits.
R&Q is supporting many medical device companies with their transition from MDD to MDR. These companies span a wide range of clinical specialties, notified bodies, and geographic locations. R&Q's involvement in client notified body audits and remediation efforts, as well as conducting internal and mock MDD/MDR audits for device companies, provides us with a significant amount of audit data and notified body perspectives.
In this webinar we'll present case studies of audit findings by functional area (risk management, post market surveillance, etc.), along with where to expect notified bodies to focus.
The objective of this webinar is to arm you with audit prep information, so you can focus your resources on the right things and achieve MDR certification.
And for even more notified body perspectives, this webinar will be presented by R&Q's Dr. Ibim Tariah, former BSI Technical Director of Medical Devices through 2019.


Presenters
Ibim Tariah, Ph.D. – Vice President of EU MDR and IVDR Consulting Services
Regulatory & Quality Solutions (R&Q)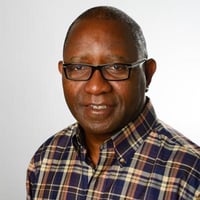 Dr. Ibim Tariah earned his PhD in Materials Science the University of Manchester, U.K. Dr. Tariah has over 30 years experience in the medical device industry, including 21 years at BSI. In Dr. Tariah's role of VP of EU MDR/IVDR Consulting Services at R&Q, he provides leadership, strategic advisement and implementation expertise to R&Q's consulting team and medical device clients. Prior to R&Q in his role of Technical Director of Medical Devices for BSI Americas, Dr. Tariah was part of the BSI Americas leadership team responsible for transitioning from MDD to MDR certification. Dr. Tariah recognized the significant challenges in implementation of the EU MDR. He created and led customized MDD and MDR workshops for clients and industry, and spoke on behalf of the notified body at global conferences and events.
Nancy Morrison, RAC – Executive Director, Regulatory & Quality Consulting Services
Regulatory & Quality Solutions (R&Q)
Nancy has over 25 years of quality and regulatory experience in the medical industry with US and global regulatory submission experience. The previous five years have been with R&Q working with start-up, mid-size and multi-national medical device and combination product companies. Nancy has a Bachelor of Science in Mathematics and an Advanced Certificate in Regulatory Affairs along with RAC certifications for the US and EU. Nancy has the ability to build collaborative relationships with stakeholders to utilize regulations to identify opportunities that provide compliant and effective business solutions.